The Road To The Future
The Next Big Thing, After Autonomous Driving – Introducing Invisible-to-Visible
It's 2030, and you're driving a new vehicle down the road. How will you view the road in front of you? How will you connect to the world around you? How will these intersect? Answering these questions, and many more, create the inspiration for Nissan as it works to shape the driving experience of the future.

Unveiled at the CES in Las Vegas, Nevada, Nissan's Invisible-to-Visible is a glimpse into what driving will be like in 2030 and beyond. It's a vision of future in-vehicle technology that blends the universe, or real world, with the digital world, or "Metaverse." Think of it as: your reality, enhanced.

MORE CONNECTED THAN YOU EVER IMAGINED.
The beginnings of I2V are present in Nissan Intelligent Mobility – which incorporates a suite of technologies that alert drivers to things they can't see. It can even step in and take action. I2V evolves the concept further, giving drivers the confidence of having a level of connectivity that's difficult to imagine today

I2V merges information from sensors outside and inside the vehicle with data pulled from the "cloud." Drivers can see "what's ahead – even showing what's behind a building or around the bend." You can even get a heads-up on an available parking space. As demonstrated in Vegas, I2V is actually much more than that.

THE FUTURE OF DRIVING BEING BUILT RIGHT NOW. MEET THE ARCHITECTS.
Invisible-to-Visible...transforms your vehicle into an "experience-sharing machine."

On hand at CES to share the possibilities of I2V were two very forward thinkers from Nissan: Vice President of Research Kazuhiro Doi and expert leader at the Nissan Research Center Tetsuro Ueda. Doi describes I2V-equipped vehicles as being a kind of "robotic suit" that maximizes a person's physical and mental capabilities, allowing them to figuratively "transcend time and space." His straight face indicates he isn't kidding.

And neither is Ueda, who says I2V lets you "share the driving experience and accumulate an unlimited number of connections with a variety of people while having conversations and feeling their actual presence." Let that sink in for a minute. I2V, according to Ueda, transforms your vehicle into an "experience-sharing machine." Wow.

To fully grasp Doi and Ueda's words, just consider the
capabilities of I2V demonstrated in Vegas. As a driver, if you're not liking the rainy, dull skies, then I2V can lighten them up for you, making your surroundings appear sunny and clear. If you're feeling bored or lonely, then I2V can invite 3-D avatars to join you. Want to become a better driver? I2V can share driving pointers from the 3-D avatar of a pro driver riding shotgun.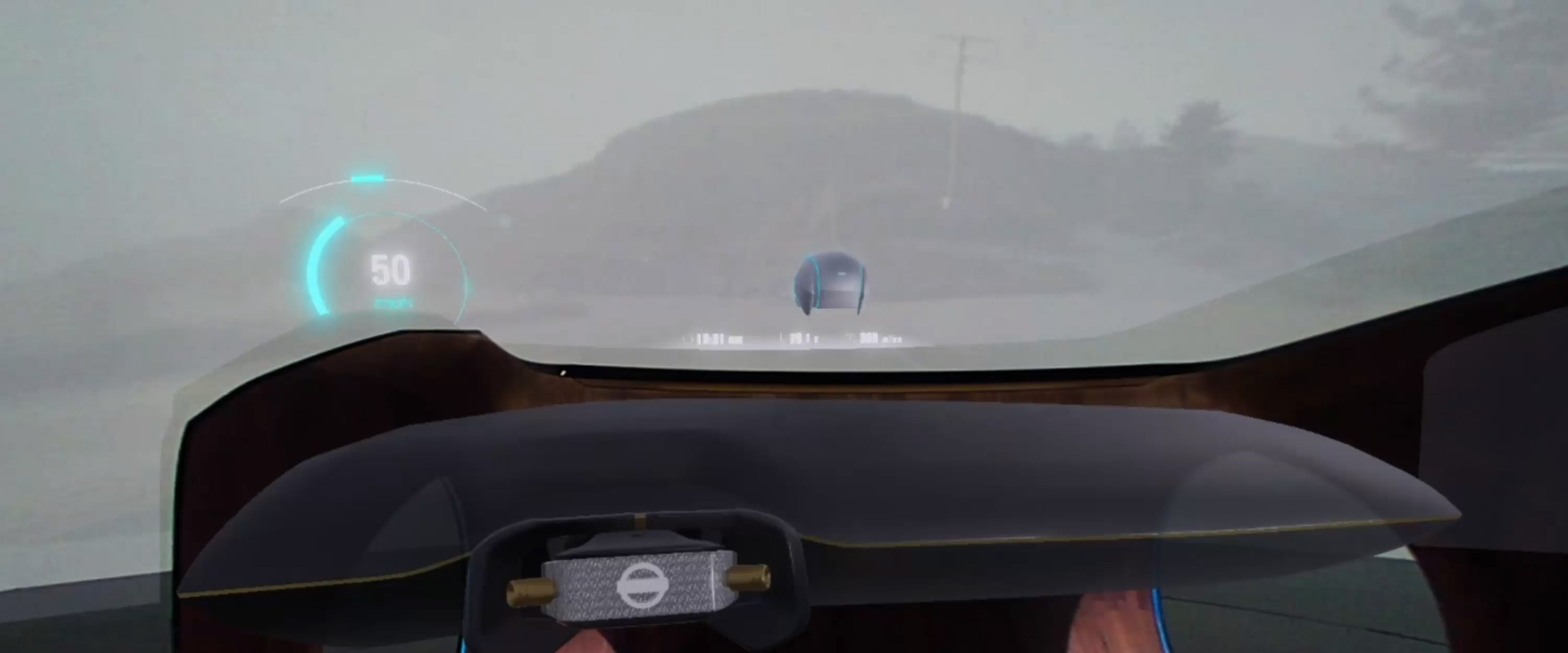 With the ability to see a world enhanced with the ever-expanding data and computing power of the internet, drivers will no longer need to juggle the real world and the virtual world. I2V joins them as one. You won't have to think about "syncing" anymore. It will all be there – all of the time.
Although many details of I2V have yet to be revealed, there's one thing Doi and Ueda are totally sure of: I2V is coming, and it will be every bit as futuristic and high-tech as it sounds while you read this in 2019. If you want to prepare yourself for this new, wired world, start reading and streaming sci-fi stories now. They had it right all along.